Day 1
Cusco - Soraypampa - Lodge del Cielo
---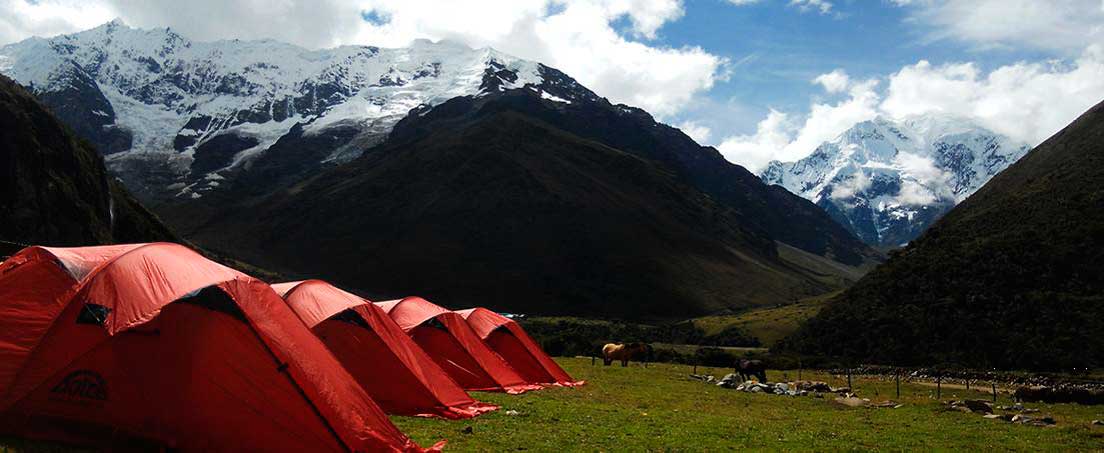 ---
We will pick you up from your hotel and travel by bus to the town of Mollepata. Along the way, we will pass through the picturesque towns of Pampa de Anta, Izcuchaca, Zurite, and Ancahuasi. Our journey will take us into the Limatambo Valley, and then toward Mollepata, where we will begin our adventure trek. At Mollepata, we will complete the arrangements for our trek and then hike to our first camp at Soraypampa.
About our Lodge del Cielo in Soraypampa: Our camp is located at 10 minutes by foot from the village of Soraypampa, this gives us a huge advantage to have a 360 panoramic view of Humantay glacier, also it's a perfect place to escape away from the crowd, where we can appreciate the beautiful scenery of the Andean Valley.
After Lunch time, we're going to Humantay Lake surrounded by glaciers on the slopes of the impressive Humantay Mountain.
Overnight at Soraypampa: Lodge Del Cielo "Sky Lodge" at 3,869 m/12,690 ft
Day 2
Crossing the Salkantay Pass, Salkantay snow-capped mountain
---
This day we will wake you up at 4:00 am and we'll give you a hot tea, then at 4:30 am we're going to have a nice breakfast for starting our trek at 5:00 am, will be the most difficult climbing day but we are going to go directly to Salkantay Pass. Our journey continues to Machu Picchu going through the Rio Blanco valley, Humantay Peak and in front of Salkantay Peak. This part will be the highest point on the trek, called Salkantay Pass (4,638 meters or 15,213 ft).
About Our Lodge del Cielo base in Collpapampa: Our camp is located 10 minutes walking from the village of Chaullay, a very crowded campsite. However, our Campsite in Collpapampa gives us a huge advantage to have a 360 panoramic view of the Salkantay Valley, it is a perfect place away from the crowd where we can know a little of the local family.
Trekking Time:Approximately 12 hours (including picnic time). Our style is just walk slow, enjoy the landscapes and talk with our tour guide.
Day 3
Descending into the cloud forest
---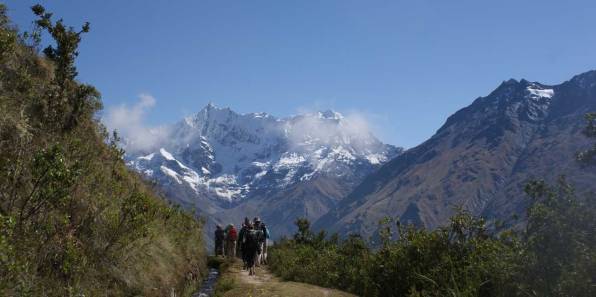 ---
On this day we'll walk along the Santa Teresa valley going through rural areas, banana, passion fruit, avocado, orchards and coffee plantations. The coffee which grows here one of the best organic coffees in the world. Our ride takes us to the beginning of the "Llactapata Inca Trail", where we'll say goodbye to our horses and muleteers staff then we'll continue through one of the most variety landscapes of this trek. A short 30 minutes walking through avocado plantations to reach to our Sky Lodge in Lucmabamba. Dinner and overnight at our Sky lodge.
Though the air is thin and the trail is steep, anyone who is fairly physically fit and acclimated to the altitude can make it over the pass. Our group carries extra oxygen if needed, but you can also ride a horse over the pass.
About our Lodge del Cielo base in Lucmabamba: Our camp is located in Lucmabamba it's a perfect place away from the crowed groups where you can see the customs of the country men and farmers.
At this time their main economy is cultivate the coffee farms. Is our responsible to give them the opportunity to show themselves. Optional: If you request a Private Service: We can have a local coffee experience
Trekking Time: Approximately 5 hours
Day 4
Inca Trail by Llactapata, 1st view of Machupicchu
---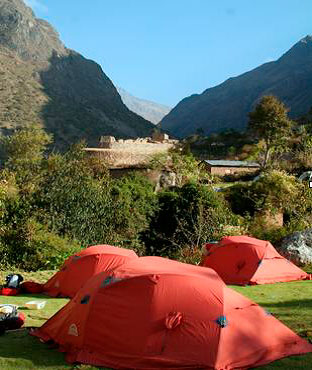 ---
After a breakfast, we will continue with the last day of our trek. We'll trek for 2-3 hours to Llactapata Pass (2,736 m/8,974ft), where we'll have an spectacular view of Machu Picchu Sanctuary from the southeast, a view that few travelers ever get a chance to admire. Here we take a short break to explore the Llactapata complex and then we'll receive the lunch at this scenic viewpoint looking out Machu Picchu. After seeing the amazing landscapes we'll begin with our final part of the trek to Aobamba river and through lush bamboo forests, orchards and coffee plantations. We'll arrive to Hydroelectric train station, for continue walking into the trails of the rail way until Machu Picchu town or also known as Aguas Calientes (approx. 3 hours). After this soft trek, we're going to our hotel then we'll have a celebration dinner with our guide and one last briefing for our next day experience!
About our overnight in Machu Picchu town: Hotel in Machu Picchu will depend according your request and expectations before starting the whole trek.
Day 5
Short Inca Trail, Km 104 - Inti Punku
---
---
Start Km 104, Chachabamba. After hiking in the sun for about 3 hours, the trail descends into a shaded forest where we will enjoy a refreshing waterfall. Following our break, we continue to the lower part of the incredible ruins of Wiñaywayna. It is recommended that you start the trek with at least 2 liters of water. After lunch in Wiñaywayna, we continue through a beautiful cloud forest full of colorful bromelias, orchids and ferns.
You will walk the last part of the trail along superb , stone steps and tambos (resting places). Then climb 60 steps before arriving to the famous Inti Punku (Sun Gate). From this magnificent point, you will see the extraordinary magical Machu Picchu before you. Feel the energy and warmth of this surreal sanctuary while taking some unforgettable pictures. Then we'll take a 25 minute bus ride to Aguas Calientes to spend the night and reminisce over our exciting hike.
Distance: 6 kms/3.7mls.
Day 6
Visit Machu Picchu sanctuary
---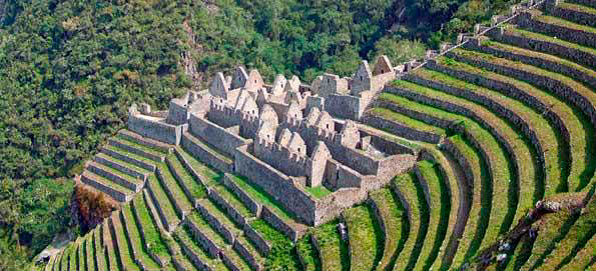 ---
After a very early buffet breakfast at your hotel, we'll take the bus to get to Machu Picchu Sanctuary (around 30 min). Our trip leader will give us an introductory guided tour of this place.
Finally we visit Machu Picchu itself! A walking tour (approximately 2 hours) is given by your guide and after this you can explore the mysterious city by yourselves. You will meet your guide in Aguas Calientes (it can be reached by bus or on foot) for lunch and to be given your train tickets back to Cusco. Train included in all tours is until Ollantaytambo (Expedition) and then bus to Cusco. Allocations or Itinerary are subject to change depending on time of booking and campsites provided by INC (institution that runs the Inca Trail).
Optional Huayna Picchu Sacred Mountain: Only the 400 tickets are issued for Huayna Picchu, the famous mountain that sits inside of Machu Picchu. 200 hundred people are allowed to enter at 7:00 am and other 200 hundred at 10:00 am. If you are interested in climbing Huayna Picchu, please let us know at the time of your booking.
At 6:45p.m. (depending on availability), you will take a train to Ollantaytambo. From there a bus will drive you to Cusco where you'll be arriving approximately at 22:30 pm.