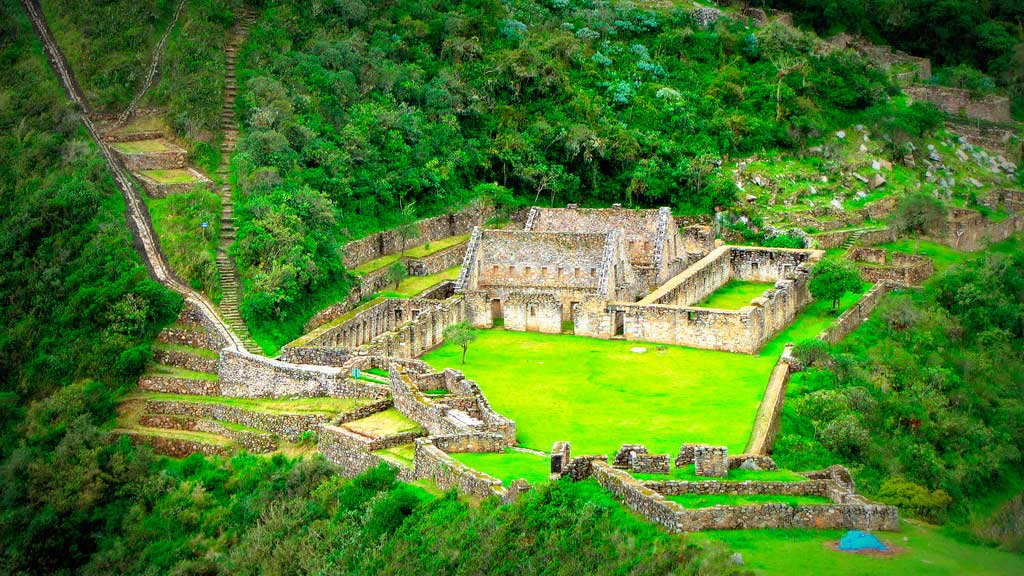 Description
The Choquequirao complex is very enchanting and one of the most well-known treks in the Cusco zone. And it's no suddenness with its fantastic natural valleys with landscapes , snow-capped mountains and an marvelous variety of birds, animals and plants.
It is located in the spur of the Salkantay Mountain chain, at over 3030 meters, surrounded by the Apus (mountain deities) of Yamana, Ampay, Chokecarpu, Pumasiyo and Panta, on the left waterside of the Apurimac River. During the time of the Incas, everything was united in connection with Machu Picchu through a composite network of trails.
Choquequirao is considered "The Last Refuge of the Inca Empire". Visitors will have the ability to learn a sophisticated hydraulic system, most likely for agricultural, domestic and ceremonial use. The geographic location of Choquequirao relatively to other religious centers of the same age inclines to show that its function was that of an Inca enclave toward the valleys of the Apurímac River. There are many similarities between Choquequirao and Machu Picchu.
ITINERARY TOUR: CHOQUEQUIRA TREK 4 DAYS / 3 NIGHTS
6:30 a.m.
Bus to Cachora
9 am to 4:00 pm
Hike:
Lima Tambo Ruins – Cachora – Chiquisca
7:00 am to 2:00 pm
Hike:
Chiquisca – Maranpata – Choquequirao Ruins
8:00 am to 4:00 pm
Hike:
Choquequirao – Chiquisca
6:30 am to 7:00 pm
Hike:
Chiquisca – Cachora
Bus to Cusco
CHOQUEQUIRAO TREK DAY 1
Cusco - Lima Tambo Ruins - Cachora – Chiquisca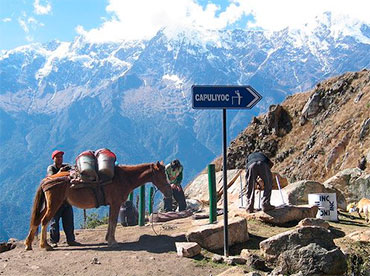 At 5:00 am our private van will pick you up from your hotel, we leave Cusco and will go to the town of San Pedro de Cachora (2800m). There you will have enough time to taste a local breakfast (not included in the package, because the price is quite acceptable). We will get together the rest of our team (cooks, horses, and horse handlers) and start our long trek for the day, which takes us between 7 and 8 hours in this rangy region. Lengthwise the way we will see various views typical to the varied climates in the area with landscapes such as the Pedroyoc snow-capped mountain or even the diversified flora and fauna that improve our experience.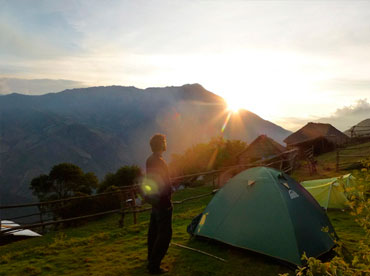 Finally we will arrive at the viewpoint of Capulichayoc from where we could oversee the deepest canyon in the world, the Apurimac, with the Apurimac River beneath. There we have our first lunch and our first sights of Choquequirao. Once we have refueled, we continue descendent until Chiquisca (1800m) where we set up the tents and have the night encircled by the splendid surroundings.
Meals: Breakfast - Lunch - Dinner.
CHOQUEQUIRAO TREK DAY 2
Chiquisca - Maranpata - Choquequirao Ruins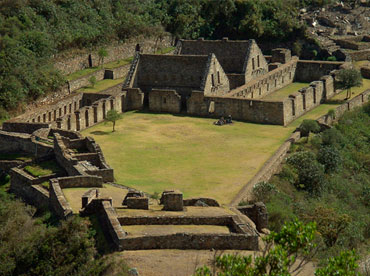 After an excellent breakfast, we start a 5 hour vigorous uphill climb until our lunch stop at Marcapata. Here we have a guided tour of Chokequirao (the "Golden Cradle"), named the Sister City of Machu Picchu for the many similarities they share. Chokequirao looks 1500 meters above the Apurimac Canyon while Machu Picchu hangs over the Urubamba canyon, they have the same breadth, and both are large strongholds of more than 8 hectares with only one third having been discovered so far. Archeologists make new disclosures every day. We will explore the three levels of the dug ruins, survey the sundry houses, terraces and other elements of this late Inca town. We will pitch next to Marcapata.
Meals: Breakfast - Lunch - Dinner.
CHOQUEQUIRAO TREK DAY 3
Choquequirao Ruins – Chiquisca
---
After the sunrise above the ruins at day and after a perfect breakfast, start back down by the same way we turned up, until we reach our camp at Chiquisca.
Meals: Breakfast - Lunch – Dinner
CHOQUEQUIRAO TREK DAY 4
Chiquisca - Cachora – Cusco
---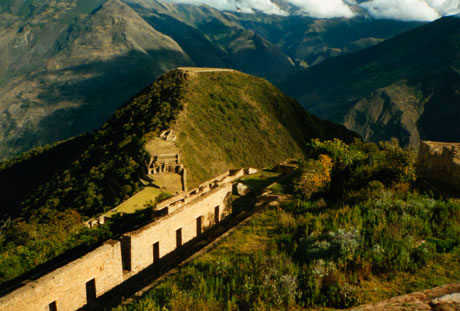 Today we will see sunrise over the Apurimac canyon at 6:00 am and will have early breakfast . We start our walk for the day which will take 5 to 7 hours, depending on your physical condition, until we reach Cachora where our private van takes us back to Cusco.
INCLUDED | CHOQUEQUIRAO TREK 4D/3N
Transfers In / Out
Transportation from Cusco to where we start walking
Professional bilingual tour guide
Entrance fee to Choquequirao
3 breakfasts, 4 lunches, 3 dinners
Professional Cook: Vegetarian (vegan) food on request at no extra cost! All dietary requirements from vegans, lacto-allergies and general dislikes can be catered for so long as prior warning is given when booking the trip
Dining tent with tables and chairs
First aid kit
1 oxygen tank
Extra horses (to carry tents, food and cooking equipment)
Quadruple & waterproof camping tent (cap. 4 fitting 2)
1 sleeping mattress per person