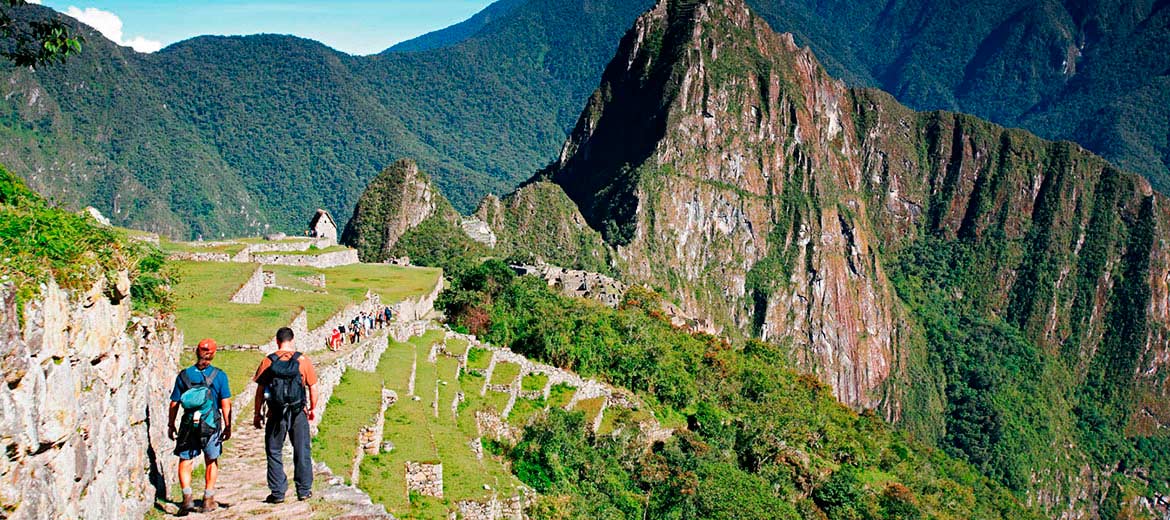 Description
Enjoy in a full day tour the hiking for the Ancestral Inka Trail and the tour in Machupicchu. Wonderful views of the Andean Mountain, the primitive vegetation and the Sunset in Machupicchu. The trail goes through the Machupicchu National Park and enters through Inti Punku "The Sun Gate" with unforgettable views of Machu Picchu. Arriving to Machupicchu have a private tour guide for the main places and enjoyed the Sunset.
overview:
Enjoy a full day Inca trail with a sunset guided tour in Machupicchu; taking this adventure day trek we going to visit the most important archaeological site of the famous Inca Trail, Wiñayhuayna "For Ever Young", midday we going to arrive to The Sun Gate and in the Afternoon a beautiful sunset Machupicchu guided tour.
At 4:00 am you will be picked up from your hotel to be tranfered until Ollantaytambo Train station where we will take the train to Chachabamba (104km).
(Train leaves at 6:10 hrs) you will travel by the Urubamba Valley seeing the primitive vegetation of the Valley.
The Expedition train ride consists of spectacular views in the Sacred Valley of the Incas, a little over an hour to KM 104 also know such as "Chachabamba".
At 7:20 hrs "SERNANP" Check point where we will need to show our original passport to valid our entrance fees. Then we going to start the Half Day Inca Trail hiking until Machupicchu, on the way we going to visit Wiñayhuayna "For Ever Young" Archaeological Site where also we will have lunch. After 2 hours more of hiking we will have the first amazing view of Machupicchu from the famous Inti Punku "Sun Gate"
By 14:00; exploring time in Machu Picchu Inca city, your guide explain you all the history about this amazing and mysterious Inca city.
By late afternoon, enjoy sunset and take the great picture when Machu Picchu is empty.
At 17:30 take the bus down to Aguas calientes. By 18:20 take the train and transfer back to Cusco (Train schedule can change according availability).

ITINERARY
Day 1: Cusco – Ollantaytambo Train Station – Km104 "Chachabamba" – Wiñaywayna "For Ever Young"– Inti Punku "Sun Gate" – Machu Picchu – Aguas Calientes – Cusco.
Our private transport and transfer will pick you up from your hotel at 04:00hrs to go to the train station (1.40min aprox by bus ) in Ollantaytambo if you wish to start from there. After 01 hour and 10 minute ride on the Expedition train, we arrive to 104km "Check Point" know such as Chachamba (2,100m/6,927ft) of the Cusco-Machu Picchu road where we begin the Inca trail . Here we pass by the first check point "Chachabamba". Afterwards, we begin a moderate climb for three hours to the magnificent archaeological site of Wiñayhuana "Wiñayhuayna" (2,650m/8747ft). Once we arrive you may enjoy the spectacular views of the Urubamba canyon and the sacred river and we will have time to Lunch, stunning Inca sites and the connection with the traditional four day Inca Trail.
After we have had time to enjoy this beautiful sight, we continue our hike to Inti Punku "the Sun Gate" (2,730mts/9,007ft). From there you will have the first spectacular and completely view of Machu Picchu considered one of the seven best touristic attractions in the world. After enjoying the view, we walk down for about one hour to the Machu Picchu city. Once there we will visit this incredible sight seeing all the knowledge that the Inkas use to built this amazing place respecting to the Pachamama "Mother Earth".
After that you will have enough time to visit Machupicchu by yourself, take all the photos that you want and enjoy the sunset.
Then we head down to Aguas Calientes for dinner. In the evening (6:20pm) you will take the return Expedition train to Ollantaytambo and catch our private van to Cusco and your hotel. You will arrive around 10:30 pm.
Meals: Box Lunch
Difficulty: Moderate to Difficult.
---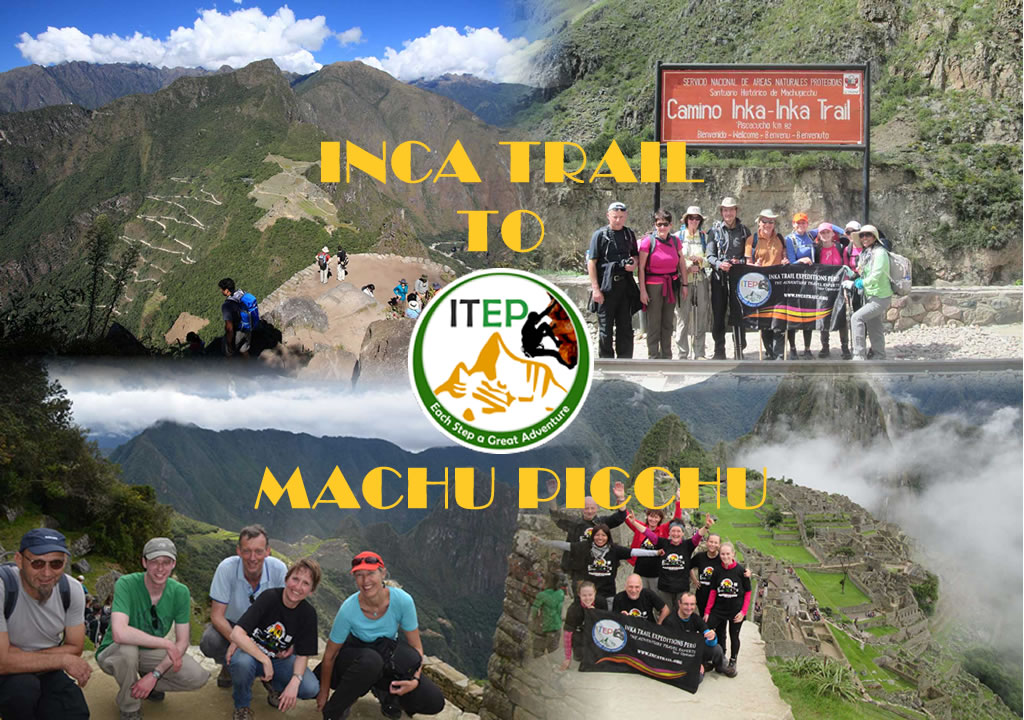 Include
One day before "briefing about your trail with our staff at our office".
Pick up at your hotel.
Private transport from your hotel to the Ollantaytambo train station.
English speaking professional guide experienced in trekking and degree in archaeology.
Expedition Touristic Train from Ollantaytambo to 104 km "Chachabamba".
Entrace ticket to the Inka Trail and Machupicchu Sanctuary.
1 Box lunch.
01 Dinner in a Machupicchu restaurant.
First-aid kit including emergency oxygen tank.
Machu Picchu Sunset Free time.
Bus ticket down from Machu Picchu to Aguas Calientes.
Overnight in Machupicchu Village: Is not needed.
Train Back Expedition from Aguas Calientes to Ollantaytambo train station and bus to back to Cusco.
Not Include
It is not possible to do the Huaynapicchu or Machu Picchu Mountain climb due to time restraints.
Energy snacks will be very useful as chocolate bars, dried fruits and water.
Tips for the staff (Tips are optional but of great appreciation for them; ITEP Travel staff receives a fair and decent payment immediately after they end their trip).
Extras
Walking sticks (US$15 for a pair of sticks).
Extra porter for personal items (US$50 for 7 Kilos – max. 7 Kilos).
Upgrade to Vistadome train (US$80 ).
We can help you to book hotels (standard and luxury) in whole Peru.
Hotels in Cusco: no matter what the standard you would like (Standard, Economy, First Class, or Luxury) you should ask us to book your room as we know all the different rates for every hotel in Cusco and might secure you a pretty sweet deal.
Discounts
To qualify as a student, it is necessary to have a valid ISIC card. Scan the card and email us the copy at the time of your booking. We will then offer a US$20 discount per student.
For children younger than 16, we offer a US$20 discount (you also need to scan and email us a copy of the passports).
For children younger than 7, we offer a US$40 discount (same here: you need to scan and email the passports).
Map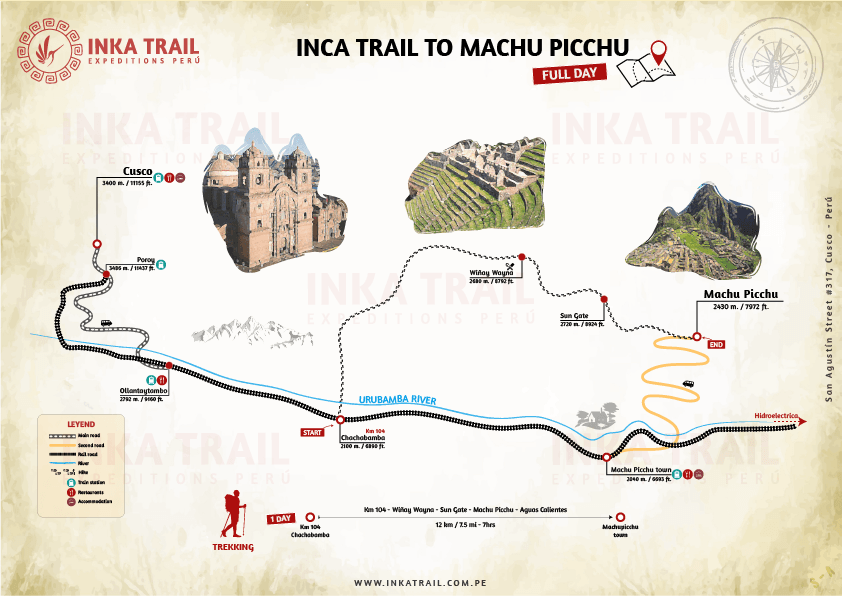 Inca Trail 1 Day video Machupicchu
In this video we show a brief description about the Inca Trail 1 day, you will appreciate the highlights of this trek in this 2 minutes longer video. There is a short description about the attractions that you will see below.
Wiñayhuayna: Wiñayhuayna means 'forever young' and is considered to be a sacred place along the Inca Trail before coming to Machu Picchu.

Intipunku: Intipunku is also called the 'Sun Gate' and leads to Machu Picchu. This is a great vantage point where you will get your first view of Machu Picchu. It was used by the Incas during their ceremonies for the summer solstice in December.

Chachabamba: Chachabamba is an archeological site left behind by the Incas believed to be dedicated to water.