ITINERARY TOUR: INCA TRAIL PRIVATE TOUR 4 DAYS / 3 NIGHTS
INCA TRAIL PRIVATE TOUR DAY 1
Cusco - KM 82/Ayapata
---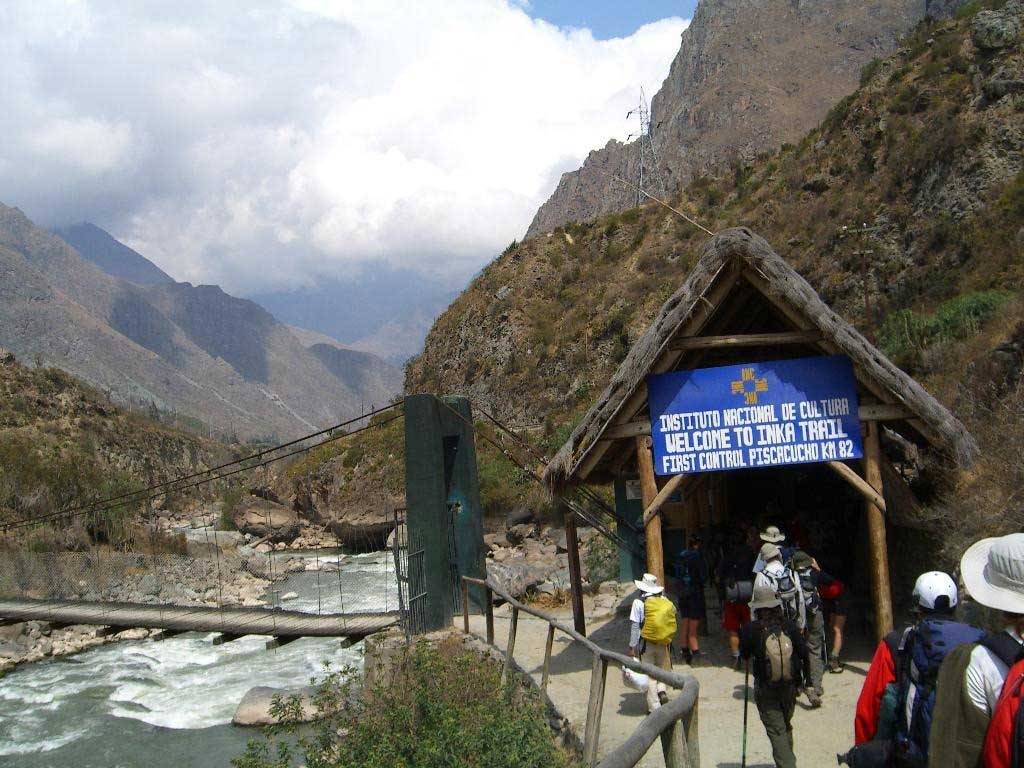 ---
The night before of your trek there will be a briefing with your Hiking guide at you hotel at 6.00 pm, In the morning we will pick you up with our private transportation with your guides and porters will pick you from your hotel either in Cusco or Sacred Valley, if you are in Cusco we will pick you up at 4.30 am and if you are in the sacred Valley will depend of the location.
First we will drive to the trailhead, KM 82 with spectacular view. Great panoramic view of the Andes along the way and you will have breakfast at the trailhead prepared by our chef. There is a checkpoint here where you will have to show them your passport which needs to match your permit (we will have for you).
Finally you will start the hike. The first 2.5 hours will be pretty easy until you arrive to the inca site of Llacatapata. This is where you will have the first taste of inca culture where our guides will begin to explain the history of Peru and incas. After your first inca lesson, it will be another 1.5 hours until we arrive to our first lunch spot where your porters will be waiting with amazing fresh food. After lunch we get some time to rest and continue for another 2 .5 hours until we reach our first camp at Ayapata. This last section will be uphill.
Walking distance 14km
Camp site elevation 3300 meters.
INCA TRAIL PRIVATE TOUR DAY 2
Ayapata – Dead Women's Pass - Pacaymayo – Chaquiccocha
---
---
You will wake up with a nice hot cup of coca tea at 4.45 am. By our porters. You will have about 45 minutes to get ready and at 5.30 you will have a very nutritious breakfast. Hiking will begin around 6.15 am we will take off towards the highest point of the inca trail, Dead Women's Pass (4215 meters). It will be a 4 hour climb through different microclimates with amazing views of the mountains.
There will be a lot of breaks along the way as it´s always difficult trekking at this elevation. Perhaps this is the day you will remember most as it´s considered to be the most difficult day of the inca trail. Once you reach the summit your porters will be waiting with a hot glass of tea and you will have some time to enjoy, celebrate and take photos.
Once you begin hiking again, it is 1.5 hours downhill through inca steps until you arrive to your well deserved lunch spot. After lunch you will have 2 more hours uphill and 2 downhill including breaks and stops at inca sites. We will get to visit 2 inca sites Runkuraccay ( Inca resting place ) and Sayacmarka ( Inca village ). Both are amazing and deserve to be visited. Finally, around 5.30 pm, you will reach your campsite at Chaquiccocha where we will serve a really nice dinner and sleep.
Walking distance 16km
Campsite elevation 3600 meters
INCA TRAIL PRIVATE TOUR DAY 3
Chaquiccoha - Phuyupatamarca - Wiñaywayna
---
---
Again, your porters will wake you up with a hot cup of tea and you will have enough time to pack your stuff. Breakfast will be at 6.00 am and then you will start hiking for 2 hours to the last pass of phuyupatamarca pass 3680. This section has special views of the Vilcabamba mountain range and Salkantay mountain.
Great area to explore the flora and fauna of the inca trail. From this place to our campsite and lunch is 3 hours downhill through many inca steps. Before lunch we will visit 2 inca sites Phuyupatamarca (Village above Clouds) and Inti Pata (Terraces of the Sun): both are amazing inca villages and your guide will help you to explore and explain every single detail about these sites.
Along the way you will continue discovering different types of plants, flowers and birds as you will be in the forest. Lunch is at camp so you can take a longer siesta and afterwards we will have an extra 5 minute to walk to the most beautiful inca site of the trail, Winay Wayna (Forever Young). This place has impressive buildings and terraces and your guide will explain and make a tour then you will have enough time to explore on your own. Around 5.30 you will go back to the campsite for your last happy hour time, dinner and then you will have small ceremony to say thanks and good bye to your amazing "green machine" porters with your appreciation of some tip.
Walking distance 10km
Campsite elevation 2600 meters
INCA TRAIL PRIVATE TOUR DAY 4
Wiñayhuayna – Machu Picchu – Aguas Calientes - Return To Cusco
---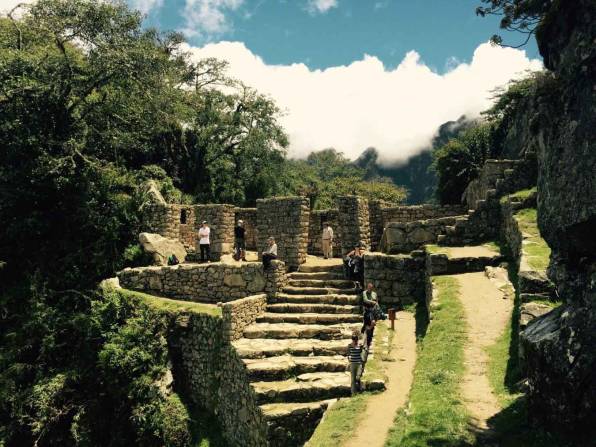 ---
We will wake up at 3.30 am, breakfast at 4 am and then to the check point by 4.30 am where we will line up until 5.30 when the rangers will finally open the checkpoint for us to pass. You will be really excited to walk this section which takes 1 hour to the Sun Gate. This is where you will see Machu Picchu for the first time with all the mountains that surrounds it. You will have lots of time to take pictures and then it´s one more hour to the actual ruins themself.
Make sure you are wearing something nice for this day because you will have these pictures hopefully forever to enjoy.
After lots of free time for taking photos, you will walk to the checkpoint of Machu Picchu where you can get a stamp on your passport and store your bag if you don't want to carry around the citadel. Your guide will walk around the Machu Picchu complex with you for 2 hours explaining and showing you about this amazing place.
Once the tour is over you will have time to continue on your own or if you have previously arranged to hike Huynapicchu you will then begin.
Your guide will show you where it begins. Around 1.30 pm is time to say good bye to Machu Picchu and take bus down to Aguas Calientes for your last lunch (on your own).
Your train out of Aguas Calientes will be at 2.55 pm or 4.45 pm, depending of train availability.
You will return back to Ollantaytambo or Poroy station (depending on which train) and then we will transfer you back to your hotel by our private car and drop you off at your hotel around 7- 8 pm.
Walking distance 5 km
Machu Picchu elevation 2400 meters.