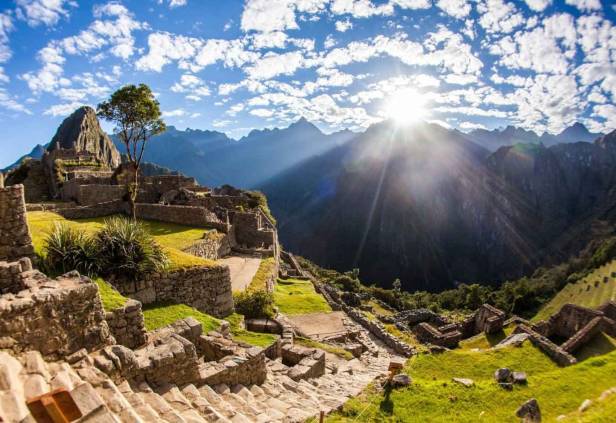 Description
Machu Picchu Trekking Tour: an unforgetable Trek to Machu Picchu "the lost city of the Incas"; you will be hiking the Inca Trail for 26 miles (43 Km) and exploring one of the seven wonders of the world, Machu Picchu. This adventure includes two nights of acclimatization in Cusco and the Sacred Valley Tour before the Hiking Tour, a visit to Sacred Valley s Pisac market and Ollantaytambo, the complete 4 days hike Inca Trail to Machu Picchu, an overnight in Aguas Calientes right by Machu Picchu and we are back to Cusco for the last night.
This all inclusive Hiking the Inca Trail to Machu Picchu is the most popular Trail you will find in South America. It is a small group adventure Tour, with plenty of time to share your experiences with a variety of like-minded travelers from all over the world. This is perfect for couples and small groups of friends and a great way to meet new people as well as seeing new places! You could tell wildlife stories as over 250 species of orchid have been counted in the Machu Picchu Historic Sanctuary, as well as numerous rare birds, animals, reptiles, including several species considered to be in danger of extinction.
In order to complete the Inca Trail Trek, you need to have a reasonable level of fitness, age should not be an obstacle. The most important thing is to be well acclimatized to the altitude.
The maximum height above sea level along the way is 4200 m (13780 ft), that is why we recommend anyone coming from the coast to spend at least 2 days in Cusco before beginning the Inca Trail hiking. This period is ideal for visiting the city of Cusco, the nearby ruins of Sacsayhuaman and the beautiful Sacred Valley of the Incas.
Please be aware that permits for this year are selling out 3 – 4 months prior departure date, and the only way to access the trail is with a permit issued by the government (National Institute of Culture in Cusco, Peru).
INCA TRAIL HIGHLIGHTS: this is our ultimate holiday in Peru, as you will experience the grandeur of the Inca Civilization, explore the most breathtaking natural sights of the inca trail and the ultimate Inca heritage Machu Picchu, and its relative Huayna picchu Sacred Mountain. Please contact us and one of our specialists will help you to come up with your perfect holiday.
ITINERARY MACHU PICCHU HIKING TOUR 5D/4N AND HUAYNA PICCHU MOUNTAIN
Day 1
6:30 a.m.
Bus till Km 82/Piscacucho.
10:00 a.m. to 4:30 p.m.
Piscacucho – Wayllabamba
Day 2
8:00 a.m. to 4:00 p.m.
Machu Picchu hike Tour:
Wayllabamba – Llulluchapampa – Pacaymayu
Day 3
8:00 a.m. to 4:00 p.m.
Hiking to Machu Picchu
Pacaymayu – Phuyupatamarca – Winayhuayna
Day 4
4:30 a.m. to 8:00 a.m.
Hike to Machu Picchu
Winayhuayna – Machu Picchu
8:00 a.m. to 4:00 p.m.
Tour to Machu Picchu:
Guided tour
2nd entrance to Machupicchu and free time to climb the Huaynapicchu sacred Mountain
Free Afternoon
Day 5
8:00 a.m. to 12:00 a.m.
Return by train to Ollantaytambo and bus to Cusco.
INCA TRAIL TO MACHU PICCHU AND HUAYNA PICCHU MOUNTAIN 5D/4N
One of our most popular trips in the region for those looking to combine the cultural highlights of Machupicchu with the challenge of one of the world's best known hikes. The 5 day Inca Trail trek will reward you with a stunning combination of the region's ruins, mountains capes and cloud forests. This trip includes a fifth day to climb the HuaynaPicchu Sacred Mountain.
Meals provided= (B) Breakfast, (L) Lunch, (D) Dinner
HIKING TO MACHU PICCHU/HUAYNA PICCHU DAY 1
Wayllabamba – Llulluchapampa – Pacaymayu (B, L, D)
---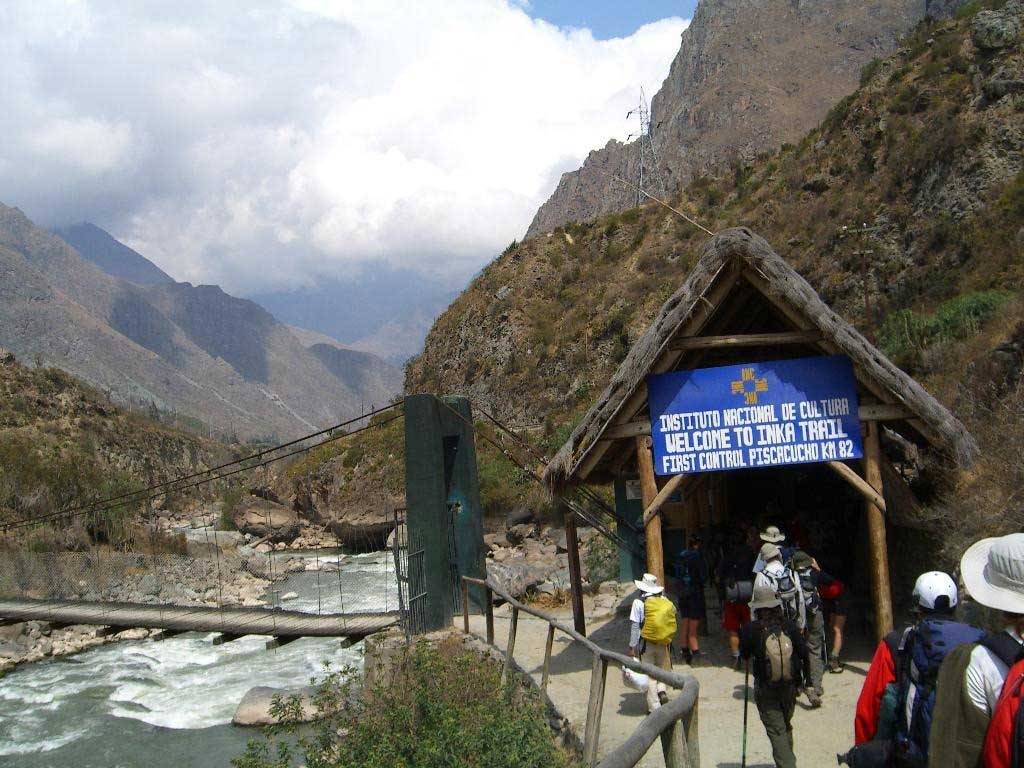 ---
Everyone is collected early from their hotels and we all travel by bus for a bit more than three hours, passing by the picturesque villages of Chinchero, Urubamba and Ollantaytambo, until reaching the kilometre 82, the actual start of your Machu Picchu 5 day trek. "quechua" porters going through semi-arid terrain along the Urubamba River valley, with magnificent views of the snowcapped mountain, Veronica (20,200). We cross the Vilcanota River and follow the trail to the right as it climbs steeply up from the river. After passing through a small village, the ruins of the Inca hillfort of Huillca Raccay come into view high above the mouth of the river Cusichaca ('happy bridge'). It is a simple descent down to the Cusichaca River.
For a further 7 km the path follows the left bank of the river up to the village of Wayllabamba (3,000m). The name in Quechua means 'grassy plain'. We spend the first night here beside some spectacular ruins which, if you have the energy, we have time to explore.
Meals: Lunch - Dinner.
HIKING TO MACHU PICCHU / HUAYNA PICCHU DAY 2
Wayllabamba - Llulluchapampa - Pacaymayo
---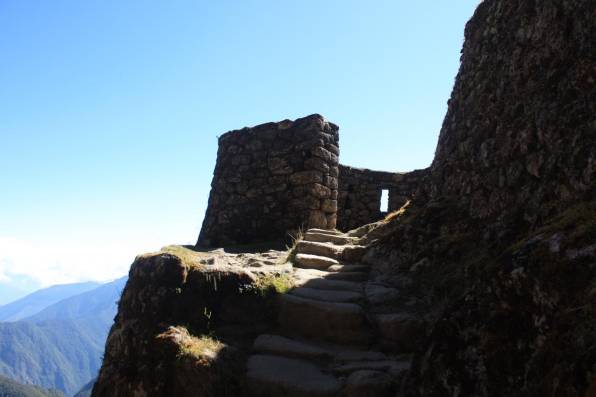 ---
After a delicious breakfast, we start our second day of this Machu Picchu trekking tour, perhaps the most difficult, as we have to climb to the pass of the impressive Warmihuañusca ("Dead woman's Pass") at 4,200 meters high. In this place, the highest in the Inca Trail, we enjoy a spectacular view of the Andes. The path continues on following a mountain stream up past hummingbirds and amazing stunted cloud forest. We pass by the beautiful grassy area at Llulluchapampa (3680 meters), which also possesses outstanding views down the valley.
After lunch, we start the descent towards the valley of Pacaymayu, where we make our camp.
Meals: Breakfast - Lunch - Dinner.
HIKING TO MACHU PICCHU / HUAYNA PICCHU DAY 3
Pacamayu – Phuyupatamarca – Wiñayhuayna (B, L, D)
---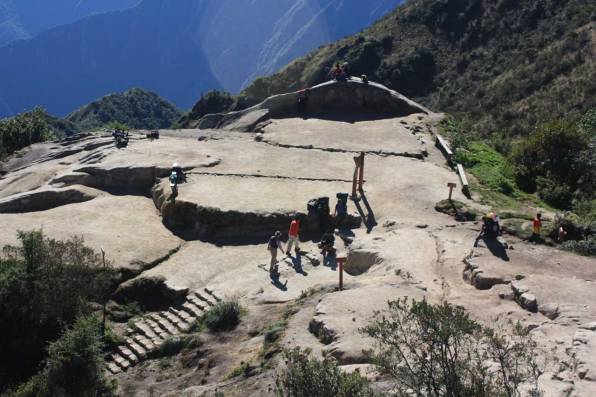 ---
From Pacamayo it takes about an hour to climb up to the ruins of Runkuracay. These small circular ruins occupy a commanding position overlooking the Pacamayo valley below. Another 45 minute hike will bring you to the top of the second pass: Abra de Runkuracay (4,000m). At last you'll feel that you are walking along the trail of the Incas with paving, for the most part, being original. The descent down the steps from the pass is steep so take care.
This section of the trail, up till the 3rd pass, is particularly beautiful as the path crosses high stone embankments and skirts deep precipices. After about 1 hour from the 2nd pass you'll arrive at Sayacmarca by way of a superbly designed stone staircase. The name Sayacmarca means 'Inaccessible Town' and describes the position of the ruins perfectly, protected on three sides by sheer cliffs. No one knows the exact purpose of these ruins.
You have to backtrack a little to rejoin the trail as it passes Conchamarca, a small Inca dwelling situated in the shadows of Sayacmarca, which was probably a tambo for weary travelers on their way to Machu Picchu.
From then on the path descends into a magnificent cloud forest full of orchids, hanging mosses, tree ferns and flowers, passing through an impressive Inca tunnel, carved into the rock, on the way.
The trail then climbs up to the 3rd pass (3,700m). The view from the pass offers excellent views of several snow-capped peaks including Salkantay (6,271m) and Veronica (5,750m). A few minutes after the pass is Phuyupatamarca, the most impressive Inca ruin so far. The name means 'Town in the Clouds'.
Access to the ruins is down a steep flight of stairs passing six 'Inca Baths' probably used for the ritual worship of water. Leaving the site via an impressive Inca staircase leading from the west side of the ruins (the far end from the baths) you descend a thousand or so steps. Be careful with your knees which will feel the strain by the end of the day.
Meals: Breakfast - Lunch - Tea Time - Dinner.
HIKING TO MACHU PICCHU/WAYNA PICCHU DAY 4
Wiñayhuayna – Machu Picchu (B)
---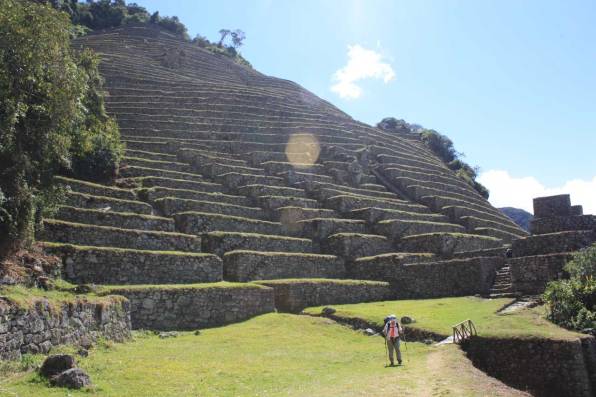 ---
After an early morning chance to catch the sunrise on the surrounding snowcapped mountains of Salcantay and Veronica, we give a farewell to our porters composed of a traditional song and dance. Our final day of hiking brings us into the cloud forest with a series of Inca stairways to Winay Wayna, another interesting site full of swallows and orchids. Finally we get to Inti Punku, the gateway of the Sun and our first glimpse of Machu Picchu. We pass through the ruins and catch a bus down to our hotel in the colorful town of Machu Picchu Pueblo (formally known as Aguas Calientes) and celebrate our return to civilization.
In the late morning we have Machu Picchu virtually to ourselves for a full guided tour, with time to climb Huayna picchu (due to permit restrictions, please let us know at the time of booking whether you want to climb Huayna picchu or Machu Picchu Mountain) or else just wander around, soaking up the amazing atmosphere.
If you are exhausted just come down to Aguas Calientes and relax in the hot springs as you have a second opportunity to see all of Machu Picchu well rested tomorrow.
Meals: Breakfast.
HIKING TO MACHU PICCHU / HUAYNA PICCHUU DAY 5
Machu Picchu – Huayna picchu – Cusco (B)
---
---
After an early breakfast you can walk or take the bus back up to explore Machu Picchu more fully and of course for your climb to Huayna picchu. If you were tired yesterday then you have plenty of time to really capture Machu Picchu today so start out early! Buses are available from 5.30am.
In the afternoon, we board the train for an exhilarating ride along the Sacred Valley of the Incas. Once at the terminal, our bus whisks us back to Cusco and your hotel. Of course if you have some energy left, you could always explore Cusco excellent nightlife.
Meals: Breakfast.
Note
The itinerary and campsites provided by the INC (institution that runs the Inca Trail) are subject to change depending on the time of booking. It can also vary depending on the climate or the health status of the trekkers. The train (to and from Ollantaytambo) included in every tour is the Expedition Service. Train times will only be confirmed near the time of the trek; thus if you join a group later we cannot guarantee you will be travelling on the same trains as the rest of the group. Train times are also subject to change depending on the train company timetables or availability.
INCLUDED | INCA TRAIL TO MACHU PICCHU AND HUAYNA PICCHU 5 DAYS
Pre-departure briefing at 7:00 pm presented by your tour guide, one or two nights before your tour (meeting is held in our Cusco s office or at your hotel)
Transfer from your hotel in Cusco or Sacred Valley
Private bus to km 82 / Piskacucho village (the starting point of the trek)
Permit to the Inca Trail Trek National Sanctuary and Park
Entrance fee for Machupicchu Archaeological Sanctuary
2nd Entrance to Machu Picchu plus permit to climb Huayna picchu
Guided visit of Intipunku (main entrance of Machupicchu)
2-3 hours guided tour in Machupicchu and extra time for yourself
Highly experienced mountain guides
Professional cook and assistants
All meals while on the Inca Trail : 4 breakfasts , 3 lunches, 3 dinners and various snacks to be eaten along the way
1 group coordinator, 1 chef of porters and 14 porters
Dining and kitchen tent, camping tables and stools
Guided visit in the various archaeological sites on the way
Quadruple clean spacious dome igloo style tent (2 persons per tent)
Thick and comfortable sleeping mattress (pillows on request)
Buckets of hot water for washing in your tent
24 hours oxygen assistance and first aid kit
Bus from Machu Picchu to Aguas Calientes
Time to enjoy the hot springs or shop around the village
Extra night in Aguas Calientes in private rooms
Breakfast in the hotel in Aguas Calientes
Afternoon Expedition Train Service return to Cusco
Not Include
First breakfast before the transfer on the first day – lunch at the last day at Aguas Calientes.
Sleeping bag.
Extra porter for personal items.
Tips are not included but it is optional
Extras
Walking sticks (15 $ for a pair of sticks).
Extra porter for personal items (60 $ for 7 Kilos – max. 7 Kilos).
Upgrade to Single room in Aguas Calientes (70$) for 02 nights.
Upgrade to Vistadome train (80$ ).
Entrance ticket to Huayna Picchu (65$) – There is only a limited space at Huayna Picchu (400 persons per day), so it is a good idea to book in advance.
We can help you to book hotels (standard and luxury) in whole Peru.
Hotels in Cusco: no matter what the standard you would like (Standard, Economy, First Class, or Luxury) you should ask us to book your room as we know all the different rates for every hotel in Cusco and might secure you a pretty sweet deal.
Discounts
To qualify as a student, it is necessary to have a valid ISIC card. Scan the card and email us the copy at the time of your booking. We will then offer a $20 discount per student.
For children younger than 16, we offer a $20 discount (you also need to scan and email us a copy of the passports).
For children younger than 7, we offer a $50 discount (same here: you need to scan and email the passports).
Hotels in Cusco: no matter what the standard you would like (Standard, Economy, First Class, or Luxury) you should ask us to book your room as we know all the different rates for every hotel in Cusco and might secure you a pretty sweet deal.
View Inca Trail Permits Availability
Information Details
Duration
5 Days & 4 Nights
Code
ITEP5
Tour Type

Archeological

Cultural

Ecological

Jungle

Adventure

Discovery

Level Service

Standard

Great value, reasonable prices, quality experiences.
Mix of public and private transport for the best overall comfort and sighting of the Sacred Valley's historical and fascinating sites.
All the top highlights included, plus plenty of time to explore on your own.

Accommodation

Tourist class

Comfortable and varied tourist-class accommodations chosen for their location and atmosphere.

Difficulty level

Moderate

Moderate physical activity involving a generous time of walking through the Inca Trail, archaeological sites, Amazon forests,sand meadow village paths. For instance you are to walk for about 6-7 hours during the 1 day of Inca Trail.

Trip Style

Active

Designed for outdoor adventurers. You do not have to be a decathlete to take an Active trip, just someone with a healthy love for getting active and the outdoors.

Departure

Every Day

No more than 500 people per day are allowed to start the Inca Trail trek at km. 82 and 104 . Once this limit of 500 people is reached, the Trail is effectively closed off for the day and no further bookings can be made. Reservations are not held on the Trail and all permits to trek must be bought as far in advance as possible with complete and correct passport information.
What You Need | Trail to Machu Picchu and Huayna picchu 5 Days
Original passport (and International Student card (ISIC) if applicable).
A daypack (for your personal porters we provide a duffle bag).
A warm sleeping bag (resistant to - 8ºC).
Light style trekking boots with good ankle support.
Trekking poles; metal tips are not allowed on the trail.
Warm clothes, layers for the variable temperatures you are to meet especially at night.
Thermal underwear (a good companion in the sleeping bag or in cold conditions).
Gloves or mittens, scarf , wool socks, woolen hat for cold nights.
T-shirts and trekking pants that zip off to shorten pants for comfort.
Re-usable plastic or metal water container or camel bags.
Flash light, head torch and extra batteries.
Camera.
Binoculars.
A hat with a broad visor to keep the sun off your face.
Sunscreen, and sunglasses.
Personal medical kit, insect repellent
Rain gear: a good rain jacket or a rain poncho
Personal toiletries, toilet paper, and a small towel
2 liter water bottle as disposable plastic bottles are forbidden on the site of Machupicchu
Water purifying tablets as an option since we provide boiled water
Bathing clothes to visit the hot springs for those hikers with an extra night in Aguas Calientes
Extra money for drinks, tips, souvenirs,... in soles
Emergency money (at least 200-300 extra soles)
If you do not have sleeping bags, rain ponchos, trekking poles, water bottle,... you can rent/buy them at our office when you check in 2 days before the trek departure
Inca Trail 5 Days video Machupicchu + Huaynapicchu
In this video we show a brief description about the Inca Trail 5 days Inca Trail + HuaynaPicchu, you will appreciate the highlights of this trek in this 2 minutes longer video. There is a short description about the attractions that you will see below.
Wiñayhuayna: Wiñayhuayna means 'forever young' and is considered to be a sacred place along the Inca Trail before coming to Machu Picchu.

Intipunku: Intipunku is also called the 'Sun Gate' and leads to Machu Picchu. This is a great vantage point where you'll get your first view of Machu Picchu. It was used by the Incas during their ceremonies for the summer solstice in December.