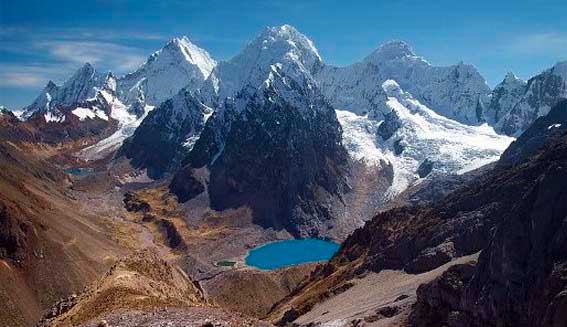 Description
Huascarán National Park is situated in the Cordillera Blanca Range, in the Sierra Central of the Peruvian Andes. The park is located most on the Cordillera Blanca, the highest tropical mountain range in the world. It has 27 snow-capped peaks 6,000 m above sea level, of which El Huascarán (6,768 m) is the highest.
The park includes a diversity of geomorphologic features. The deep canyons contain rushing streams formed from one of the 80 glaciers, and there are some 120 glacial lakes ranging in size from 1 million m3 to 10 million m3 of water. Below down are thermal sources used for their therapeutic features
ITINERARY TOUR: TREKKING SANTA CRUZ - LLANGANUCO 4 DAYS / 3 NIGHTS
7:00 a.m.
HUARAZ - CASHAPAMAPA
HIKE TO LAKES - TAULLIPAMPA (4200 msln)
Hike Duration 5-6 hours during the day
HIKE PUNTA UNION – QUEBRADA PARIA (4700 msnm)
Hike Duration 6-7 hours during the day
VAQUERIA – HUARAZ in bus
18:00 Hrs
Arrival in Huaraz
Trekking SANTA CRUZ - LLANGANUCO "HUARAZ" 4 days
(Included National Park of Huascarán)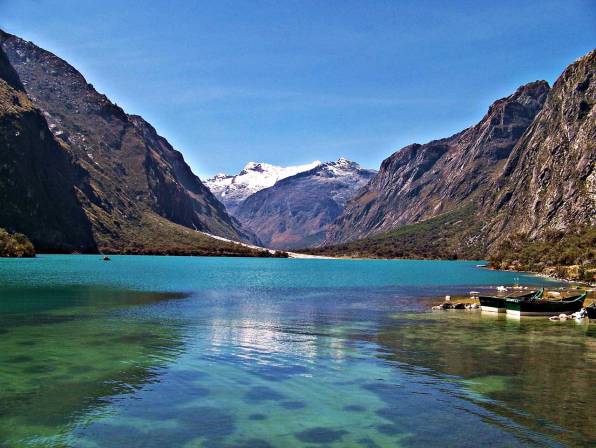 ---
Trekking SANTA CRUZ - LLANGANUCO DAY 1
HUARAZ – CASHAPAMPA
---
7:00 a.m. Transfer from Huaraz to Cashapampa. Transfer by private bus, organized in teams and Trek started in the Santa Cruz ravine, during a walk of 3-4 hours. Camping on Llamacorral (3700 M).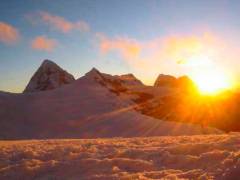 Trekking SANTA CRUZ - LLANGANUCO DAY 2
Trek to Lagunas – Taullipampa (4200 msnm)
---
During this hike lasting 5-6 hours to visit on our way to two extraordinary lakes and Ichiqcocha Jatuncocha calls (large lagoon and small lagoon), where we visit the lookout Alpamayo (snowed most beautiful in the world). Camping on Taullipamampa (4200 M).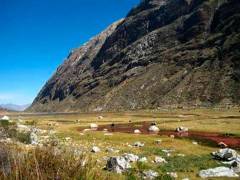 Trekking SANTA CRUZ - LLANGANUCO DAY 3
PUNTA UNION – PARIA CREEK (4700 msnm)
---
This day we will walk approximately 6-7 hours to pass Punta Union of 4760m, which is the highest point of our trek passing this point start to go down, visiting and observing beautiful scenery. The view is very nice of the Taullirajús, Artesonraju, Pucahirca snowy. Overnight camp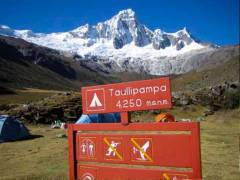 Trekking SANTA CRUZ - LLANGANUCO DAY 4
HUARIPAMPA CREEK – VAQUERIA – HUARAZ
---
Hike to the Huaripampa creek and then climb to Vaquería where the bus will be waiting to return to Huaraz, passing portachuelo (4760 M) and walk down the llanganuco creek, arrived in Huaraz about 18 Hrs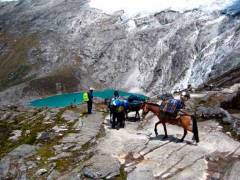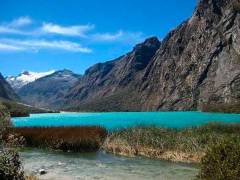 ---
END OF OUR SERVICES
Trip Details