DAY 1
CUSCO - MOLLEPATA – SORAYPAMPA
---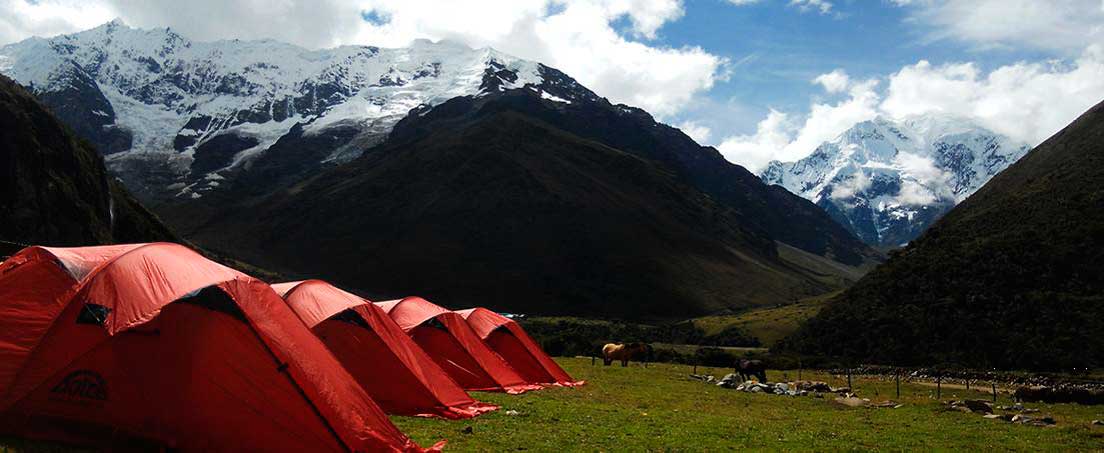 ---
We will pick you up from your hotel and travel by bus to the town of Mollepata. Along the way, we will pass through the picturesque towns of Pampa de Anta, Izcuchaca, Zurite, and Ancahuasi. Our journey will take us into the Limatambo Valley, and then toward Mollepata, where we will begin our adventure trek. At Mollepata, we will complete the arrangements for our trek and then hike to our first camp at Soraypampa.
Meals: Breakfast, Lunch, Dinner
DAY 2
SORAYPAMPA - PAMPAJAPONESA
---
We will begin our second day with a trek to Choquekiclla, where we will view the majestic Salkantay Humantay, a sacred mountain capped with snow peaks and we'll make camp on its skirts (4,000 meters above sea level).
Meals: Lunch, Dinner.
DAY 3
PAMPAJAPONESA – SISAYPAMPA
---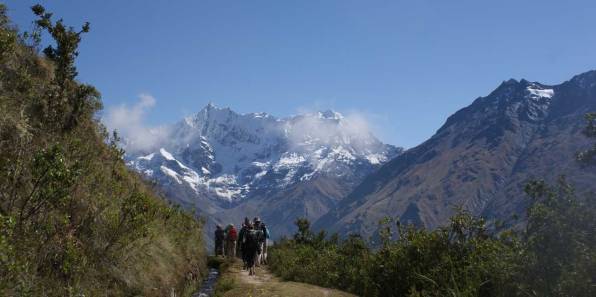 ---
The third day is by far going to be the hardest day on the trek. It's long, it's cold, and you have to make your way over the 4,650 meter Salkantay Pass. Nonetheless, waking up at sunrise amidst the sprawling grasslands of Sisaypampa, the sun illuminating the 6264 meter Andean peaks springing up from behind you makes for an energizing and mesmerizing start of the day.
The climb to the pass takes about 3 or 4 hours, and it is fairly steep with narrow switchbacks and steady uphill climbs until the rock structures of the pass finally come into view. Unless hiking in June or July, the trail should not have any snow or ice, although hail, sleet, ice, and rain are possible at any time of the year.
Though the air is thin and the trail is steep, anyone who is fairly physically fit and acclimated to the altitude can make it over the pass. Our group carries extra oxygen if needed, but you can also ride a horse over the pass.
Once having crossed the pass it is the start of a long downhill hike where you will eventually drop over 1,700 meters vertically until you arrive at our campsite in the Inca Canal. During our trek, we will be able to fully appreciate and take in the imposing Andean landscape.
Meals: Breakfast, Lunch, Dinner
DAY 4
SISAYPAMPA - HUAYLLABAMBA
---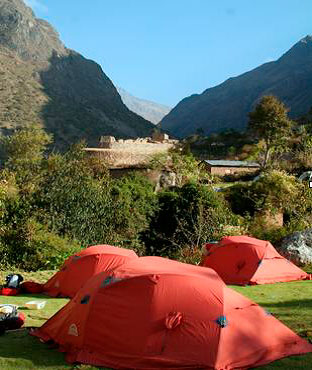 ---
We begin Day 4 by hiking through the Inca Canal, which leads us to Paucarcancha. At Paucarcancha, we will enter the Cusichaca Valley and hike onward to Huayllabamba (Incaracay).
Meals: Breakfast, Lunch, Dinner
DAY 5
HUAYLLABAMBA - PACAYMAYO
---
---
After waking up at around 5:00-5:30am and having breakfast, we will start a steep ascent towards the highest pass: Abra de Warrmihuañusca also known as Dead Woman's Pass at 4200 meters. On this day you should feel proud for reaching the top! After a rest here, we begin the descent to the lunch stop which is located at Pacaymayu (3550 meters). On the way up to the pass we will be able to see lots of hummingbirds and other birds. Also we will have the time to appreciate an incredible variety of native plants and trees such as the Polylepis or Q'ueuña trees which grow in the astonishing cloud forest located at 3650 meters! We will arrive at our campsite, Pacaymayo, by 5 pm.
Meals: Breakfast - Lunch - Dinner.
DAY 6
PACAYMAYO - PHUYUPATAMARCA – WIÑAYWAYNA
---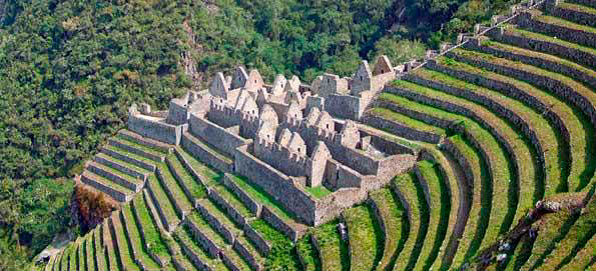 ---
In our opinion, this is the most impressive day! We will wake up for breakfast around 6am, and start the day with a gentle climb to visit the archaeological site of Phuyupatamarca (meaning Town in the Clouds) and to reach the third highest point on the trail at 3680 meters). The views from here of the mountains, canyons and surrounding area are spectacular.
The Inca site, Phuyupatamarca, is located a few minutes walk from the third pass and after visiting this, we continue walking (3000 steps!) through the cloud forest and the impressive agricultural Inca site of Intipata until we arrive at our third campsite Wiñay Wayna (2680 meters). Today we have only walked about 4 to 5 hours and have arrived to camp by lunch time! A short distance from this campsite is the Inca site with the same name, Wiñay Wayna (Forever Young). Even if you are tired after your day's trek, don't miss out on visiting the most impressive sites on the trail.
Meals: Breakfast, Lunch, Dinner.
DAY 7
WIÑAY WAYNA - MACHU PICCHU – CUSCO
We will leave the last campsite at about 5:30am on the final day (breakfast 3.30-4:00am). It is an early start in order to get to Inti Punku (Sun Gate) at 2730 meters before sunrise. This is the place from where you will have your first dramatic view of Machu Picchu at 2400 meters with the sun rising over it! After some time there, we will walk down the last part of the trail to the spot where you can take the classic photo (picture postcard shot) of this ancient city.
Finally we visit Machu Picchu itself! A walking tour (approximately 2 hours) is given by your guide and after this you can explore the mysterious city by yourselves. You will meet your guide in Aguas Calientes (it can be reached by bus or on foot) for lunch and to be given your train tickets back to Cusco. Train included in all tours is until Ollantaytambo (Expedition) and then bus to Cusco. Allocations or Itinerary are subject to change depending on time of booking and campsites provided by INC (institution that runs the Inca Trail).
Meals: Breakfast.
Optional Huayna Picchu Sacred Mountain: Only the 400 tickets are issued for Huayna Picchu, the famous mountain that sits inside of Machu Picchu. 200 hundred people are allowed to enter at 7:00 am and other 200 hundred at 10:00 am. If you are interested in climbing Huayna Picchu, please let us know at the time of your booking.
At 6:45p.m. (depending on availability), you will take a train to Ollantaytambo. From there a bus will drive you to Cusco where you'll be arriving approximately at 22:30 pm.