Short Inca Trail
---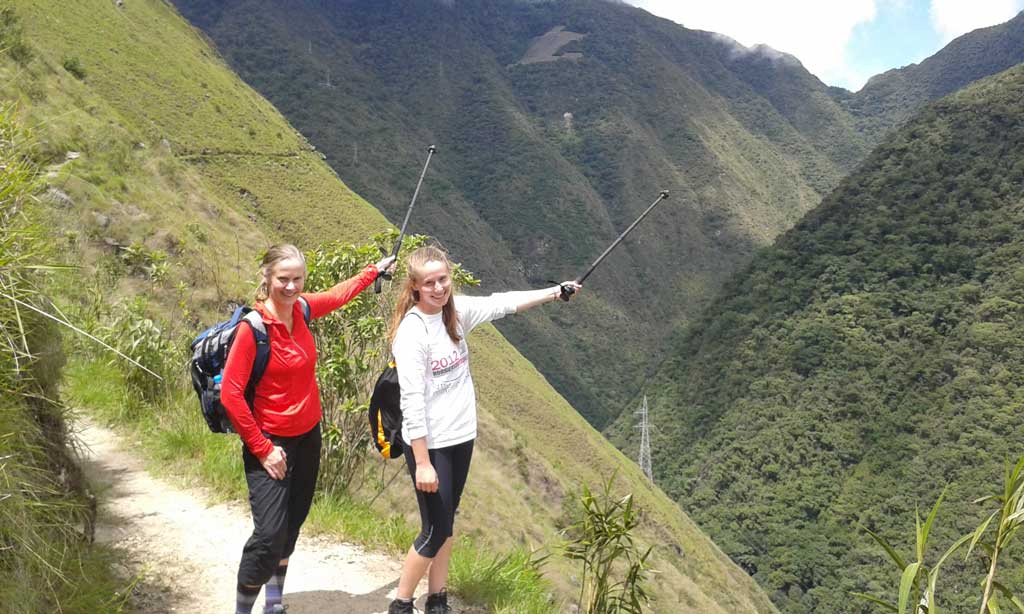 Description
The Inca Trail has always been a wonder, part of a network of 30.000 km. of trails going from Mendoza in Argentina to the border between Ecuador and Colombia, and an essential piece of the road system of the Inca's Empire. Vibrant with some of the most incredible nature you could encounter on a trek due to the subtropical forest situation, full of valleys, snow-capped mountains and an amazing variety of plants, birds and animals, crossing archaeological sites and traditional living culture of the Sacred Valley of the Incas, while using its cautiously preserved stairs and tunnels and ending at the legendary Machu Picchu.
Hiking the Inca Trail with Inca Trail Expeditions will be one of those experiences that you will remember forever as this is quite the essential Peruvian travel adventure, a perfect mix of cosmopolitan and traditional Andean life. For this Machu Picchu Hiking Tour you could immerse yourself in that gigantic and preserved Inca culture listening to the locals proudly defending their traditions while learning one or two Quechua words on the way, plunge in those fantastic sceneries true living paintings of Mother Nature and redefine the way you are travelling while everything else is taken care of.
Like every Inca Trail Expeditions Tour, the Inca Trail Tour to Machu Picchu is a journey tailored by travelling specialists so you can enjoy every minute without wasting any money.
---
ITINERARY MACHU PICCHU HIKING TOUR 2D/1N
6:30 a.m.
Bus till Ollantaytambo - Train till Km 104/Chachabamba.
10:00 a.m. to 4:30 p.m.
Hike to Machu Picchu.
Chachabamba – Winayhayna – Machu Picchu
Optional: visit of the Hot Springs in Machupicchu Pueblo
6:00 a.m. to 5:30p.m.
Tour to Machu Picchu:
Guided tour
Free Afternoon
Return by train to Ollantaytambo and bus to Cusco
MACHU PICCHU HIKING TOUR DAY 1
CUSCO - CHACHABAMBA - WIÑAYWAYNA - MACHU PICCHU
---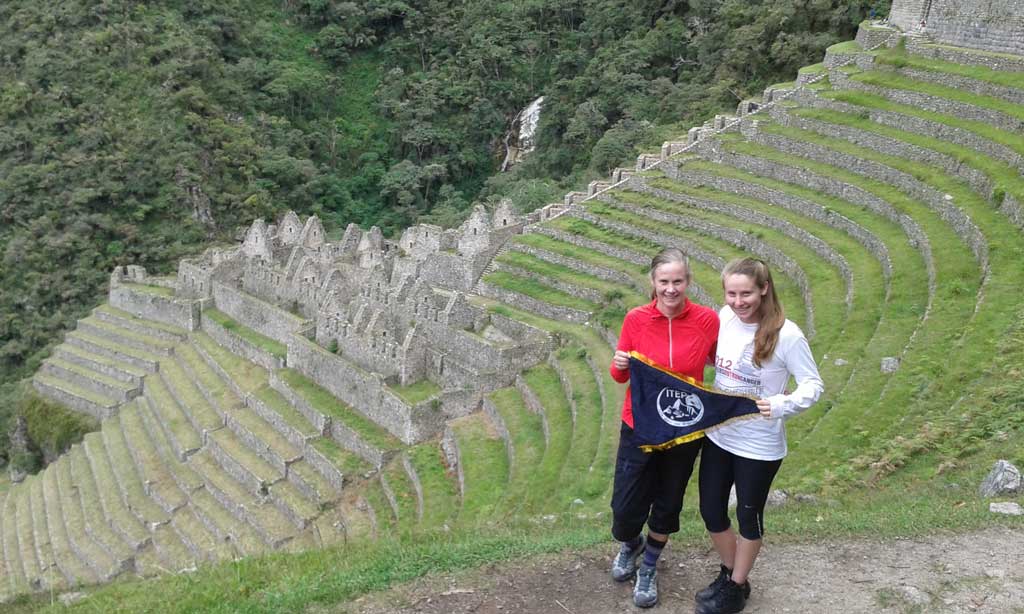 ---
We pick you up from your hotel with our bus at 5:40am (depending on the train time) and take you to the train station. Once on board you are in for on a very picturesque route for two and a half hours until we reach kilometer 104 – Chachabamba, the start of your unforgettable adventure: hiking to Machu Picchu. From here, we have a walk of approximately 4 hours up to the Inca site of WiñayWayna ('Forever Young') (2680m/8792ft), the most impressive site on the whole Inca Trail.
We then continue our Inca Trail tour on to Inti Punku ('Sun gate') (2730m/8792ft) from where you have your first view over the majestic Machu Picchu (2400m/7873ft). We walk down the last part of the trail towards the ancient city itself. Before reaching Machu Picchu, we have a short rest and then descend to Aguas Calientes or Machupicchu Pueblo by tourist bus. We arrive at around 4:30pm, which gives you plenty of time to enjoy that colorful city once you have left all you things at your hotel.
Meals: Lunch - Tea Time - Dinner.
MACHU PICCHU HIKING TOUR DAY 2
Excursion at Machu Picchu
---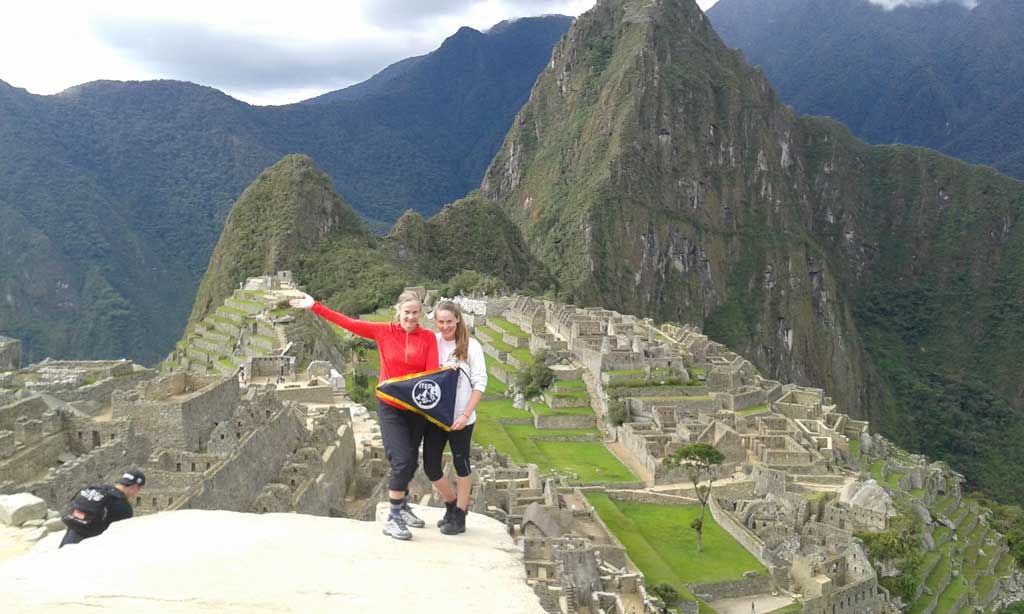 ---
After a rich and tasty breakfast we take the bus at approximately 6am up to Macchu Pichu so we can enjoy the beautiful sun rise. A hiking tour of around 2 hours is given by your tour guide, after which you can explore the mysterious city all by yourselves. When you feel you are full with the mystical vibes of that legendary place we return to Aguas Calientes to catch the train back to Ollantaytambo followed by a bus to Cusco. You should back to your hotel at 10:30pm. And here ends your Machu Picchu hiking adventure.
Meals: Breakfast
Include
Transfers In / Out
Train tickets to Km. 104/Chachabamba (where we start walking)
Professional bilingual tour guide
Assistant tour guide (for groups of 9 or more people)
Entrance fee to Inca Trail and Machu Picchu
Bus tickets to Machupicchu Inca City and to Machupicchu town
1 breakfast, 1 lunch, 1 afternoon snack, 1 dinner and various snacks to be eaten throughout the day; the first breakfast and every meals after the breakfast on day 2 are not included
First aid kit
1 oxygen tank
1 night in a touristic hotel in Aguas Calientes
Expedition train ticket from Aguas Calientes to Ollantaytambo
Transfer from Ollantaytambo train station to your hotel in Cusco
Not Include
First breakfast before the transfer on the first day – lunch at the last day at Aguas Calientes.
Extra porter for personal items.
Tips are not included but it is optional
Extras
Walking sticks (10 $ for a pair of sticks).
Extra porter for personal items (60$ for 7 Kilos – max. 7 Kilos).
Upgrade to Single room in Aguas Calientes (35$).
Upgrade to Vistadome train (80$ ).
Entrance ticket to Huayna Picchu (65$) – There is only a limited space at Huayna Picchu (400 persons per day), so it is a good idea to book in advance.
We can help you to book hotels (standard and luxury) in whole Peru.
Hotels in Cusco: no matter what the standard you would like (Standard, Economy, First Class, or Luxury) you should ask us to book your room as we know all the different rates for every hotel in Cusco and might secure you a pretty sweet deal.
Discounts
To qualify as a student, it is necessary to have a valid ISIC card. Scan the card and email us the copy at the time of your booking. We will then offer a $20 discount per student.
For children younger than 16, we offer a $20 discount (you also need to scan and email us a copy of the passports).
For children younger than 7, we offer a $50 discount (same here: you need to scan and email the passports).
You need
Original passport (and International Student card (ISIC) if applicable).
Walking boots.
Waterproof jacket/rain poncho.
Warm jacket, hat and gloves.
T-shirts.
Comfortable trousers.
Sun hat.
Sunglasses.
Sun protection cream (factor 35 recommended).
Re-usable plastic or metal water container or camel bags.
Insect repellent.
Toiletries.
Personal medication.
Camera and films.
Torch with spare batteries (headlamps are the best).
Optional Items to Take | Inca Trail Tour to Machu Picchu 2 Days.
Shorts.
Walking stick (with rubber tip).
Plasters and bandages.
Sandals.
Extra money.
Bathing suit (for the hot springs in Aguas Calientes) where the entrance fee at the door is US$4.
WHEN TO BOOK THE INCA TRAIL TREK 2 DAYS
The government has strictly limited the number of people permitted on the Inca Trail (permits are issued to about 200 trekkers per day plus 300 porters this 500 permits include 4 days inca trail). We recommend that you make a trek booking as early as posible we recommend 4 months in advance.
It's recommended to book the tour inca trail to Machu Picchu 2 days in advance, before booking flight tickets and hotels, because there are limited spots to reservation for Inca trail at INC and PERU RAIL (train Tickets).
Information Details
Duration
2 Days & 1 Night
Code
PECIT2
Tour Type

Archeological

Cultural

Ecological

Jungle

Adventure

Discovery

Level Service

Standar

Great value, reasonable prices, quality experiences.
Mix of public and private transport for the best overall comfort and sighting of the Sacred Valley's historical and fascinating sites.
All the top highlights included, plus plenty of time to explore on your own.

Difficulty level

Moderate

Moderate physical activity involving a generous time of walking through the Inca Trail, archaeological sites, Amazon forests,sand meadow village paths. For instance you are to walk for about 6-7 hours during the 1 day of Inca Trail.

Accommodation

Tourist class

Comfortable and varied tourist-class accommodations chosen for their location and atmosphere.

Trip Style

Active

Moderate physical activity involving a generous time of walking through the Inca Trail, archaeological sites, Amazon forests,sand meadow village paths. For instance you are to walk for about 6-7 hours during the 1 day of Inca Trail.

Departure

Every Day

No more than 500 people per day are allowed to start the Inca Trail trek at km. 82 and 104 . Once this limit of 500 people is reached, the Trail is effectively closed off for the day and no further bookings can be made. Reservations are not held on the Trail and all permits to trek must be bought as far in advance as possible with complete and correct passport information.
---
Inca Trail 2 Days on Google Maps